Archive for the 'street portraits' Category
Monday, November 21st, 2016
Scroll down for English Version


Portraits für Bewerbungen, Firmenwebseiten, Zeitschriften, Zeitungen und auch Social Media stehen bei mir durchgehend am Plan. Oft fallen dabei Worte wie "teamfähig, offen und kommunikativ". Seit längeren denke ich mir, dass solche Worte nach anderen Portraits verlangen. Ein steriles Foto im Studio passt dazu einfach nicht.
Ein Regisseur, Consultant, Mitarbeiter im Verkauf oder auch Menschen in der kreativen Branche haben immer mit anderen Menschen zu tun, deshalb habe ich sie auch so abgelichtet.
Die Zufriedenheit meiner Kunden gibt mir dabei recht

Mehr meiner Fotos findet ihr hier unter http://www.markus-hofstaetter.at


Tragt euch in meinen Newsletter: http://blog.markus-hofstaetter.at/Newsletter/ ein!

English Version


vivid business portraits

I do portraits for applications, websites, social media, magazines and newspapers all the time.
I always hear words like "team minded, open minded and communicative". From my point of view, this kind of words deserve different portraits (not the usual studio ones). A director, consultant or persons in the creative business are in contact with other persons all the time, because of this I captured them like that. And the satisfaction of my customers proved me right 🙂

More about my work http://www.markus-hofstaetter.at


Be sure to subscribe to my Newsletter: http://blog.markus-hofstaetter.at/Newsletter/!

Monday, May 9th, 2016
Scroll down for English Version

Da Weana auf Nassplatte für den Welt Nassplattentag.
Erstmal traf ich ihn bei meinem analogen Strassen Portrait Projekt http://www.street-portraits.eu

Ein Foto, gemacht auf einer 100 Jahre alten Kamera mit einer 160 Jahren alten Technik.Nassplattenfotografie – wet plate – ganz ohne digitale Technik, analog, der "Film" wird per Hand beschichtet und in mehreren Schritten verarbeitet. Mehr darüber (auch Videos) hier: http://zeitreise.jetzt/

Zeitaufwand ca 3 Stunden.
Vor der großen Platte wurde eine kleine 10x12cm geschossen, um die Belichtung zu bestimmen.
Lichtempfindlichkeit der Platte, je nach Alter der Chemie ca. ISO 0,5.
Details:

Titel: Da Weana
Model: Da Weana Musiker: http://www.daweana.at/
Plattengröße: 30x40cm
Kamera: Unbekannter Hersteller um 1900
Objektiv: Voigtlaender Heliar 360mm F4.5 @ f10
Blitze: Hensel EH PRO 6000 (EAUTY DISH EH inklusive Grid), EH PRO 3000 (std Reflektor), Hensel TRIA 3000 und TRIA 6000 Generatoren auf voller Leistung (9000 Watt/Sekunden)
Belichtungszeit: Objektivkappe runter, händisch Blitze auslösen, und dann wieder Objektivkappe schließen.

Hensel Deutschland – Pro Digital Wien

Tragt euch in meinen Newsletter: http://blog.markus-hofstaetter.at/Newsletter/ ein!








English version:
Wetplate Da Weana at the World Wet Plate day.
I met Weana with my street portraits project:
http://www.street-portraits.eu
A photo, done on a 100 year old camera with an 160 year old technique.
Wet plate photography – without any use of digital workflow – analog – the "film" is poured by hand on the plate and processed afterwards in many steps. Find more about it here (inclusive videos) http://zeitreise.jetzt/

Title: Da Weana (musician http://www.daweana.at/)
Plate: 30x40cm Alumitype
Camera: about 100year old wooden Reisekamera
Lens: Voigtlaender Heliar 360mm F4.5 @ f10
Strobes: Hensel EH PRO 6000 (BEAUTY DISH EH with Grid), EH PRO 3000 (std reflector), Hensel TRIA 3000 and TRIA 6000 generators at full power (9000 w/s)

Be sure to subscribe to my Newsletter: http://blog.markus-hofstaetter.at/Newsletter/!
Tuesday, March 1st, 2016
Scroll down for English version


Für meine Straßenportraits bin ich immer auf der Suche nach richtigen Charakteren. Als ich las, dass es in Venedig einen Buchladen gibt, der öfter unter Wasser steht, war mir klar, dass dort so einer zuhause ist. Nur wenige Minuten von unserem Hotel entfernt war der "schönste Buchladen der Welt".

Der Eingang sieht einladend aus und man vermutet ein ganz "normales" Buchgeschäft dahinter.



Doch dann tritt man in die wunderbare Welt des Chaos, der Katzen und der Bücher ein.



Gleich am Anfang empfängt einen Luigi fast akzentfrei in sämtlichen Sprachen dieser Welt.
Die ersten Worte von ihm waren: "guckt euch das Bild an" und dabei deutete er mit dem Finger auf ein Bild. Ich will euch nicht viel beschreiben, seht euch einfach das Video an:



Dann verwies er uns in den Hinterhof zu den "einzigartigen Stufen".
Da hatte Luigi Recht, diese Stufen sind wirklich einzigartig, da sie aus Büchern bestehen. Und zwar wirklich begehbare Bücher.




Völlig begeistert von dem "Alice im Wunderland Gefühl", durchforstete ich ein wenig mehr den Laden und ging dann zurück zu Luigi, um ihn nach einem Portrait zu fragen. Er stimmte sofort zu und hielt dabei meinen Reflektor in der Hand, damit sein Gesicht mehr ausgeleuchtet wird. Ich fragte ihn danach, woher seine Sprachbegabung kommt.
Er antworte mit einem Lächeln auf dem Gesicht: "wie Casanova hatte ich viele Freundinnen aus verschiedenen Ländern…."



Die nächste Besonderheit in diesem Geschäft sind die Katzen, laut Luigi sind es momentan nur drei Stück, aber diese findet man überall zwischen den Büchern, oder eben auch auf der Kassa.




Kaum fertig mit dem Foto wurde ich gleich wieder durch das Geschäft geschickt, diesmal sollte ich den Fußspuren folgen und mir den Notausgang ansehen. Dieser ist natürlich auch besonders, da man hier nur wegschwimmen kann 🙂 .



Bevor wir Luigi verließen, lud er mich noch ein heute Nacht zurückzukommen, da es um 1:00 Hochwasser gäbe und ich interessante Fotos machen könnte. Anfangs überlegte ich noch, aber dann erkannte ich die einmalige Chance und stellte mir den Wecker um 0:30.
Mitten in der Nacht alarmierte mich mein Telefon und ca. 15 Minuten später fand ich dann auch die notwendige Energie um mich aufzuraffen um ins kalte Nass zu gehen. Venedig ist manchmal ein wenig unheimlich bei Nacht, da man ziemlich alleine auf der Straße ist und durch das viele Wasser von überallher Geräusche kommen.




Mit den Hochwassersackerl (Tüten) für die Schuhe bewaffnet, begab ich mich auf den Weg zu Luigi. Laut Wettervorhersage ( http://www.comune.venezia.it/flex/cm/pages/ServeBLOB.php/L/IT/IDPagina/1748 ) sollte es an diesem Tag gute 130cm Hochwasser haben und das bedeutet, dass halb Venedig unter Wasser steht. Dort angekommen war alles trocken und weit und breit nichts von Luigi zu sehen.
Weder der Eingang




noch der Notausgang waren offen.



Ich wartete noch ein wenig, aber dann wurde mir klar, dass das Hochwasser doch ausblieb und Luigi wahrscheinlich seelenruhig schlief. Irgendwie schade, aber andererseits positiv, dass ihn diesmal der Hochwasserstress nicht bedrückte.

Am Weg nachhause fing es wieder zu regnen an und auf einem nächtlich einsamen Platz fand ich noch dieses Bild, dass mich ein wenig an mich selbst erinnerte….kalt, nass, kaputt vom kalten Wetter und vom nächtlichen Aufstehen.




Wenn ihr in Venedig seid, dann ist ein Besuch bei Luigi Pflicht. So einen freundlichen Menschen inklusive einzigartigem Geschäft findet man selten.

Registriert euch für meinen Newsletter um immer die aktuellen Neuigkeiten zu bekommen: http://blog.markus-hofstaetter.at/newsletter/

Mehr Straßenportraits: http://www.street-portraits.eu//newsletter/


English version:
I'm always looking for characters to get new faces for my street portraits project (http://www.street-portraits.eu/). After I read about the unique book store in Venice, that is flooded from time to time, I was sure to find there another one. Luckily "the most beautiful book store" was just minutes away from our hotel. The entrance looks nice and you think at the beginning, just another book store.



But then you step into the wonderful world of chaos, cats and books.



Luigi welcomes you in many languages nearly without an accent. He immediately told us to look at this picture and pointed his finger to one. Just watch the video to see what we saw.



Then he told us to go to the backyard to see the unique steps.
Luigi was right, they are unique, because they are made of books. Books you can step on.




Excited from the "Alice in Wonderland feeling", I searched thru the shop and walked back to him for an portrait.
He agreed immediately and held my reflector to get more light into his face.
Afterwards I asked him about his language talent…he told me with a smile, "like Casanova I had lot of girl friends around the globe" 🙂

The next special thing in this shops are the cats, you find them everywhere… between the books or on the cashiers desk 🙂


Just after I finished the portrait, he sent me again thru his store. I should follow the steps on the floor to the emergency exit.
This one is special too, because you need to swim out of the shop. 🙂

Before we left Luigi, he invited me to coma back today at 1:00am, because the shop will be flooded tonight and I get a chance to shoot some interesting images. I saw my chance and set the alarm clock at 0:30am. 15 minutes after the alarm went of I found enough energy to get up and move on to Luigi. The empty streets of Venice can be scary at night, because of the water there are strange noises from everywhere.
With the special feet bags armed I walked my way to the store. The forecast said it will be 130 cm of water at 1am ( http://www.comune.venezia.it/flex/cm/pages/ServeBLOB.php/L/IT/IDPagina/1748 )
That means half of Venice is under water. But after I arrived at his shop, there was no water and no Luigi.
The entrance was closed


I waited for a little longer, but then it was clear that there will be no Luigi and water in the shop today. Somehow it was a bummer, but I was happy nobody has to move all the stuff around 🙂

On my way home it started raining again and on an empty square I found that picture that reminded me on myself…
cold, wet, kaput from the cold weather and from getting up early.

If you visit Venice, Luigi's book store is a must on your to do list. You will not find such a friendly person with a unique book store anywhere else!




Don't forget to register for my newsletter: http://blog.markus-hofstaetter.at/newsletter/

Thursday, October 29th, 2015
Fstoppers startet the Critique the Community Episodes and I gave it a chance to post some of my street portraits (Topic was natural light portrait).
Yesterday I looked up their website and saw Jack (I also presented Jack on a local exhibition:Virtual Tour in their post. Of course they did not know that this was shot on an analog medium format camera, manual focus and manual exposure. That made it even more sweet, that my image got a good critique and could stand up with the digital ones. Dani Diamond even thought I have retouched it a bit…but this days this is a normal behavior and nobody thinks of an analog portrait anymore. Patrick Hall mentioned the glasses and how I took care about not having a reflection in there (I always take my time during a street portrait and mostly shoot only one or two images). Thanks a lot guys for your kind words and I knew before my images are not easy to compare.
Here is the direct link to the video from Fstoppers:

Critique the Community Episode 10a – Natural Light Portraits with Dani Diamond

be sure to subscribe to my newsletter to get the latest infos: http://blog.markus-hofstaetter.at/newsletter/
Tuesday, October 6th, 2015
As you have seen maybe already, I took some pictures at the Bratislava 1619 event (check my blog post about that http://blog.markus-hofstaetter.at/2015/10/bratislava-1619/) As I walked around and looked at the people, I saw one of them that cached my attention. I walked to him and asked if I'm allowed to take his picture. He agreed and I got this great expression. I think his face fits perfectly in this kind of time line.

be sure to subscribe to my newsletter to get the latest infos: http://blog.markus-hofstaetter.at/newsletter/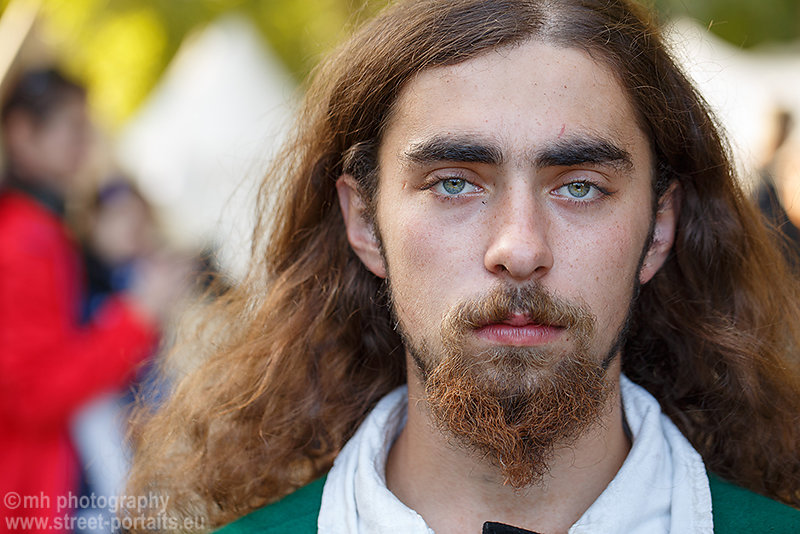 Wednesday, August 12th, 2015
Daryl is a famous well known pool billiard player. 2007 he won the 9 ball world championship, he played the Mosconi Cup twice and gained some Eurotour titles. I shot this photo with my analog medium format camera in very low light (1/25th of a second with Ilford Delta 3200 film), so you can imagine that manual focusing was quite a challange.

be sure to subscribe to my newsletter to get the latest infos: http://blog.markus-hofstaetter.at/newsletter/
Click the picture to see more street portraits
Saturday, June 13th, 2015
Yesterday I got a Google Hangout message with the information, that Alias got hist photos
I met Alias at "the Ave" in Seattle and sat with him two days on the street, Click the Link to read the full story:
http://blog.markus-hofstaetter.at/2014/11/alias-the-self-made-indian-street-portraits/

Here the selfie with Alias and met that got explored on Flickr
http://blog.markus-hofstaetter.at/2015/03/the-self-made-indian-is-published-on-flickrs-explore-page/

I sent the photos to Alan, a Friend and photographer from Seattle and he was so kind to handover the photos to Alias.

I was so happy to read, when Alan wrote me that Alias loved the pictures and looked thru the them again and again.
You have to know that Alias loves analog black and white pictures, he has always one of Sitting Bull with him.
And now he has his own black and white images, shot on an old medium format camera. I can imagine this is very special to him and thats the reason my heart was melting when I saw the handover.

Alan, thanks a lot for going to Alias again!!

Here again my original Portrait, a wonderful shot Alan Lin did with his analog Leica of Alias going thru the pictures and a selfie.
See more street portraits here: www.street-portraits.eu/

Monday, May 25th, 2015
Another photo that got explored on Flickr, happy this time it was Tanja, a beautiful woman I did a portrait of from NYC.
I shot that one on my analog medium format camera (Mamiya)
Friday, April 10th, 2015
Hi zusammen,
Am 11. und 12. April werde ich meine Fotos (viele Street Portraits) und Nassplatten ausstellen.
Zusätzlich werde ich an beiden Tagen auch Platten für Euch Anfertigen. Und selbstgemachte glutenfreie Kamerakekse gibts auch 🙂
Wo: Muckendorf An Der Donau, Landstraße 8, Haus der Generationen
Wann: Samstag 11. (14-20) Und Sontag 12. April (13-17 Uhr)
Sunday, November 30th, 2014
Scroll down for English version:

Heute hole ich mal etwas länger aus, eigentlich wollte ich "nur" meine letzten Fotos veröffentlichen.

Manchmal stehe ich früh auf um etwas für meinen Körper zu tun, heute war so ein Tag. Wie ich nach getaner "Arbeit" noch gemütlich am Radlfahren war um etwas runter zu kommen, sah ich mal wieder auf die großen Bildschirme im Fitnesscenter. Dort erblickte ich ein Fotoshooting, ein Pärchen im knappen Outfit posierten für die Fotografin. Diese machte viele Fotos und sah sich dank digitaler Technik diese natürlich sofort auf der Kamera an. Die Models warteten einstweilen, Assistenten liefen aufgeregt herum. Es wurde diskutiert, ein wenig an der Pose geändert und dann ging das Spiel wieder von vorne los. Ich kenne das natürlich auch von früheren Shootings. Da ich jetzt schon eine Zeit lang wieder vermehrt analog fotografiere, habe ich mir dabei folgendes gedacht:

Wie würde der Fotograf arbeiten wenn er pro Pose maximal zwei Fotos machen darf und diese aber nicht sofort sieht (Analog)

Wahrscheinlich müsste man sich viel mehr konzentrieren und mehr vorbereiten. Die Idee schon fertig im Kopf haben und trotzdem Kompromisse eingehen. Die Models/Kunden müssten mit Sicherheit auch geduldiger sein.

Aber warum um Gottes Willen sollen wir so etwas machen? Das ist doch ein Rückschritt, man verliert so viel Zeit (Die sich heute "eh" nur mehr sehr wenig Menschen nehmen)
Und dann noch Analog, dann muss man ja das Negativ (Nach dem Entwickeln) wieder extra einscannen um es im Photoshop bearbeiten zu können.
Die Kunden warten länger auf die Fotos und auch im Studio (oder auch draußen) müssen sie geduldiger sein, da der Fotograf zuerst alles einrichten muss.


Meine Gedanken dazu:

In der Zeit in der wir leben, wird alles Zeitoptimiert. Angeblich geht alles schneller und einfacher. Wenn das wirklich so ist, warum haben (oder nehmen uns) wir dann keine Zeit mehr? Warum sind viele Menschen so gestresst? Wenn wirklich alles einfacher und zeitoptimiert ablaufen würde, dann hätten wir doch auch mehr Zeit! Wenn man sich wieder Zeit nimmt um ein Foto zu machen (oder machen zu lassen), wird dieser Moment wieder zu einer schönen Erinnerung, zu einem richtig schönen Ereignis, an das man sich gerne erinnert.

Als Fotograf, kann man sogar Zeit sparen, man muss nicht hunderte Fotos durchsehen und entschieden welche man nimmt oder auch nicht. Man bringt (oder schickt) die Fotos ins Labor und holt sie wieder. Fertig!

Viele Portraits wurden so perfektioniert (entfremdet), dass ich vor solchen Gesichtern Angst hätte, würden sie mir auf der Straße entgegen kommen. So viel perfekte helle makellose Haut, große leuchtente Augen und überschlanke Körper erinnern mich manchmal an außerirdische Geschöpfe.
Ich kenne eine Geschichte wo die Mutter ihre Tochter nicht erkannt hat, als sie das Foto (Die Grafik) in einer Zeitung gesehen hat.

Natürlich stehen auch bei analogen Fotos genügend Mittel zu Verfügung um sie zu verbessern. Mein Labor macht das noch direkt am Foto mit einem Pinsel (Wenn wirklich notwendig). Kaum vorzustellen, aber immer noch möglich.

Deshalb will ich jetzt gerne eine neue Fotoherausforderung über Facebook starten. Und zwar fordere ich Fotografen auf Fotos zu veröffentlichen, die direkt aus der Kamera kommen.

Kein "Postprocessing", keine Farbkorrektor, keine schwarz weiß Konvertierung, einfach direkter Export vom raw oder ein Scan vom Film. Ich würde mich auch freuen, wenn Ihr ganz kurz darauf eingeht, wie das Foto entstanden ist.


Hier gleich mein erstes Foto:

Franz Joseph Machatschek, ein wundervoller Mensch, der das Schreiben und Singen in seiner Liederatur vereint. Zu finden unter http://www.dermachatschek.at/ (Vorsicht Suchtgefahr)

Das Foto ist am Naschmarkt mit der Hilfe von zwei guten Freunden (Danke an Dani und Fritz), einer Linhof Technika Großformatkamera und viel Zeit (bei kalten Temperaturen) entstanden. Es gab auch einige interessante Reaktionen
(mehr hier vom Making of : http://blog.markus-hofstaetter.at/2014/11/large-format-photography-and-street-portraits/ vorerst nur in Englisch)

Titel: Der Machatschek, wird er gleich lachen oder wird er grantig…ma was hoit anfoch ned.




Be sure to also visit my project page: http://www.street-portraits.eu/

English version:
Today I gonna reach back, actually I "just" wanted to release my latest photos

Sometimes I get up early to do some workout, today was a day like that. After I finished everything, I found myself on an ergometer to cool down, watching the big screens in the gym. There I saw a photos shooting with a couple in a sexy outfit. They were posing for the photographer, she shot a lot of pictures and reviewed them on the digital camera. In between the models were waiting and the assistant were running around. After a while they started a discussion, they moved the models a bit and started from the beginning. I know that from earlier shootings I did, but because I'm using film now for a while again, I got some thoughts in my mind:

How would a photographer work if he only got two shots per pose, shooting on film without being able to review the photo?
Probably you have to be much more concentrated and the preparation would be done also more carefully. You got the idea in your head and would still accept a compromise. The models/customer also must be much more patient.

So why in hell you wanna do something like that? Doing a step backwards, you gotta loose time (Time nobody want to take today) and then there is the analog thing, you have to develop the film and scan it to be able to retouch it in Photoshop. Customers have to be more patient waiting for the photo and also in the studio, because of the photographer setting up the shot.


Here are my thoughts:

Today everything is optimized to save time, everything is easier and faster (allegedly). If life is really like that, why nobody has time (or takes time)? Why are lots of people in continuous stress? If it would be really like that, we all would have more time.
If you start to take time again for taking photos (or be taken of), you will realize, that this moment turns into a beautiful memory and an event you gonna remember.

As being a photographer, you will save time, because there is no sorting of more than hundreds of photos, you don't have to choose which one you gonna delete and which not. You just bring (send) the film to the lab and pick it up again.

I've seen lots of portraits being perfected (alienated), I would be scared from faces like that if I meet them on my way home. Lots of perfect, bright flawless skin, huge glowing eyes and super skinny body reminds me sometimes on aliens. I can tell you a story about a mother who did not recognize the picture (graphic) of her daughter in the newspaper because of that.

Of course there are enough tools to modify an analog photograph too. My lab uses a real brush for example sometimes if it is really necessary. Most people cannot imagine to do so, but its possible.

Because of that I want to start a new Facebookchallenge. I will invite other photographers to post photos without post processing (Even no color temperature correction or black and white conversion, just a export from the raw file). I would be also happy if you write a short story how the photo was done.


I directly start here with my first one:

Franz Joseph Machatschek, a beautiful person who brings writing and singing together in his "Liederatur" (singing literature – singrature), Find more here: http://www.dermachatschek.at/ (caution, its addicting)

The photograph was done at the Naschmarkt in Vienna with the help of two good friends (Thanks to Dani and Fritz), a Linhof Technka large format camera and lots of time (in cold weather). We got also some interesting reactions (read more about it in our making of: http://blog.markus-hofstaetter.at/2014/11/large-format-photography-and-street-portraits/ )

Title: Der Machatschek, wird er gleich lachen oder wird er grantig…ma was hoit anfoch ned.




Be sure to also visit my project page: http://www.street-portraits.eu/