Archive for October, 2015
Thursday, October 29th, 2015
Fstoppers startet the Critique the Community Episodes and I gave it a chance to post some of my street portraits (Topic was natural light portrait).
Yesterday I looked up their website and saw Jack (I also presented Jack on a local exhibition:Virtual Tour in their post. Of course they did not know that this was shot on an analog medium format camera, manual focus and manual exposure. That made it even more sweet, that my image got a good critique and could stand up with the digital ones. Dani Diamond even thought I have retouched it a bit…but this days this is a normal behavior and nobody thinks of an analog portrait anymore. Patrick Hall mentioned the glasses and how I took care about not having a reflection in there (I always take my time during a street portrait and mostly shoot only one or two images). Thanks a lot guys for your kind words and I knew before my images are not easy to compare.
Here is the direct link to the video from Fstoppers:

Critique the Community Episode 10a – Natural Light Portraits with Dani Diamond

be sure to subscribe to my newsletter to get the latest infos: https://blog.markus-hofstaetter.at/newsletter/
Monday, October 26th, 2015
Runterscrollen für die deutsche Version.
As you know already, I'm into wet plate photography (zeitreise.jetzt). Because I need mask and goggles for that, lots of people told me I look like Walter White from Breaking Bad . My girlfriend and me are watching the show and recently we saw that yellowish portrait of Jesse and Walt (you can see it on the IMDb page from Breaking Bad ). As you can imagine the idea of doing such a thing with ourselves was born quite quickly. After a CV portrait shoot we changed the strobes real quick and did some serious shots of ourselves and the rest was done in Photoshop. Here is the outcome, we like it a lot 🙂

be sure to subscribe to my newsletter to get the latest infos: https://blog.markus-hofstaetter.at/newsletter/
Wie ihr schon wisst, biete ich auch die Nassplattenfotografie (zeitreise.jetzt) an. Da ich dafür eine Schutzmaske und Brille benötige, haben mich schon einige mit Walter White von Breaking Bad verglichen. Die Serie fesselt meine Freundin und mich immer öfter vor dem Fernseher und kürzlich stolperten wir über ein gelbliches Doppelporträt von Jesse und Walt (Auf der IMDb Seite von Breaking Bad findet ihr das Bild). Wie ihr euch vorstellen könnt, entstand schnell die Idee ein ähnliches Porträt zu erstellen. Nach einem Bewerbungsfotoshooting haben wir kurz die Blitze umgestellt und dann ging es schon los. Noch ein wenig Photoshop am Abend und schon haben wir die Idee umgesetzt. Dabei sind ein paar sehr coole Bilder entstanden.

Meldet euch an meinen Newsletter an um immer die neuesten Infos zu bekommen: https://blog.markus-hofstaetter.at/newsletter/
Tuesday, October 6th, 2015
As you have seen maybe already, I took some pictures at the Bratislava 1619 event (check my blog post about that https://blog.markus-hofstaetter.at/2015/10/bratislava-1619/) As I walked around and looked at the people, I saw one of them that cached my attention. I walked to him and asked if I'm allowed to take his picture. He agreed and I got this great expression. I think his face fits perfectly in this kind of time line.

be sure to subscribe to my newsletter to get the latest infos: https://blog.markus-hofstaetter.at/newsletter/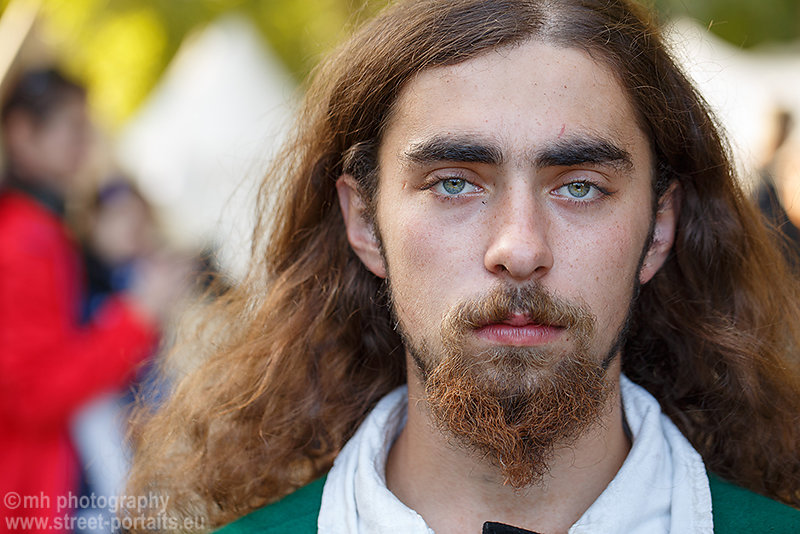 Monday, October 5th, 2015
We went to Bratislava this weekend and by accident we saw an old battle going on in a park.
Googleing at home I figured that this was a huge festival called Bratislava 1619 (www.bratislava1619.sk ) and it is about to show a reenactment of a military battle from 17th century.
It was a great experience, sword fights, rifles shooting and canons were exploding very impressively loud. For some moments we felt to stay in the middle of a big historic war. I shot also a portrait of one of the "fighters". I will post later about that. Scroll down to see some moments of the battle

be sure to subscribe to my newsletter to get the latest infos: https://blog.markus-hofstaetter.at/newsletter/